Healthy Collagen Caramel Slice
Posted June 2022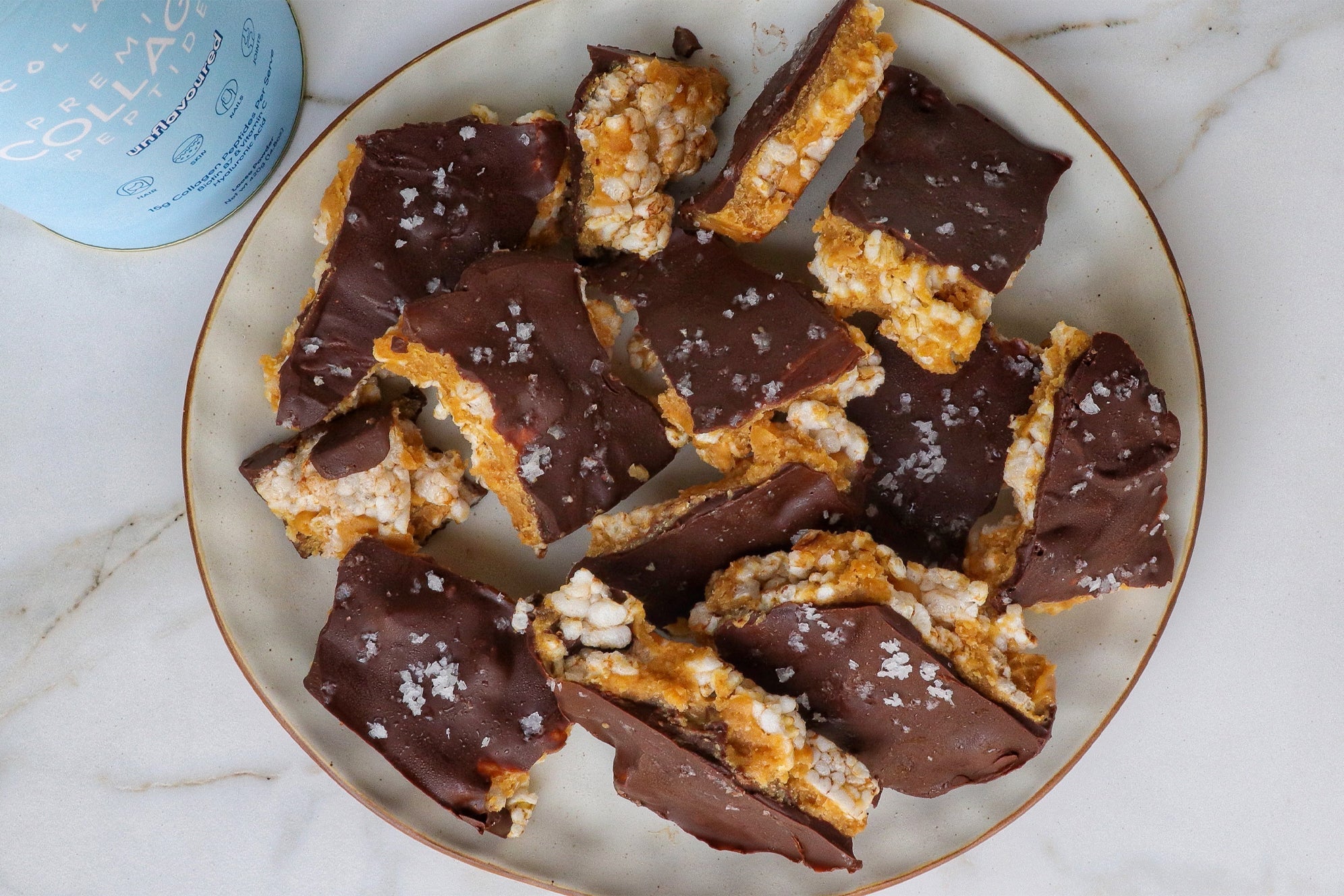 The easiest caramel slice you all ever create... With everything you most likely already have in your pantry!
A new, healthier take on the classic caramel slice. You have the crunch, the caramel and the decadent chocolate topping. This is a snack you can have on hand to cure those sugar cravings without the guilt. With plenty of healthy fats, gluten FREE and an extra boost of glow with collagen. So, do yourself a favour and try this simple, delicious recipe... Trust us, you won't stop making this one!
Serves 16-24
Ingredients
3/4 cup creamy nut butter (cashew, peanut, or tahini)

1/3 cup pure maple syrup

1/4 cup melted coconut oil

1 teaspoon vanilla extract

1/4 teaspoon sea salt

2 scoops Unflavoured Collagen
Chocolate layer:


1 cup dark chocolate chips
1 tablespoon coconut oil
Method
Combine the nut butter, maple syrup, coconut oil, vanilla extract , sea salt and collagen in a medium sized bowl. Stir well to form a caramel sauce.

Crush the rice cakes into small pieces in a 8x8 baking pan lined with baking paper to form the "crust". 

Pour the caramel sauce over the rice cake layer and spread to evenly smooth out.

Meanwhile, add chocolate chips and coconut oil to a microwave safe bowl. Microwave in 30 second increments, stirring in between until chocolate is completely melted. 

Pour the melted chocolate over the caramel layer and tilt the pan side-to-side to evenly distribute the melted chocolate. Sprinkle with sea salt if desired. Place in the fridge for 30 minutes until chocolate is hardened.

Remove from the pan and break into pieces.