Youthful skin, full hair, strong nails, flexible joints, and a healthy gut — there's no benefit bovine collagen peptides can provide that our marine collagen peptides can't. Looks like you can get the best of both worlds, after all
100% pure Australian marine collagen peptides
Effective dosage, maximum bioavailability
Sustainably sourced from wild-caught fish scales from Australia's pristine coastal waters
You know how most marine collagen peptides taste and smell like their source — fishy? Yeah, we weren't too keen on this unpleasant, tastes-like-the-sea flavour profile, either.
So, we took it upon ourselves to do better. This is the result: pure, efficacious, sustainably-sourced marine peptides that are truly odourless and flavourless. We promise you'll see, and feel, smell, and taste the difference.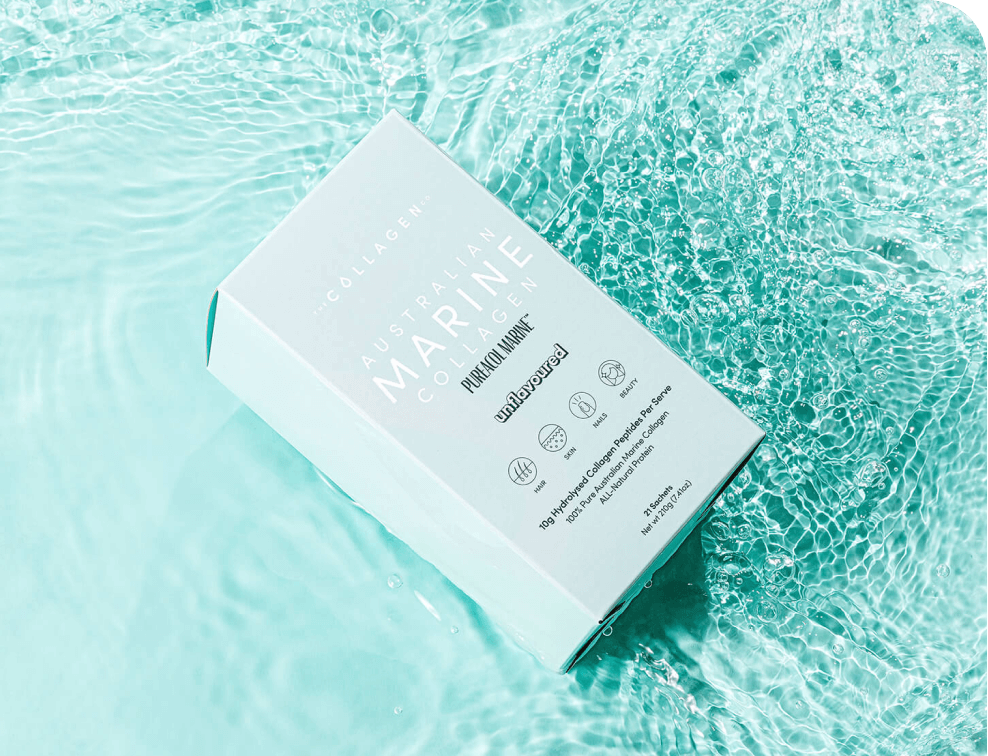 100% pure Australian marine Hydrolysed Collagen Peptides
You'll see nothing but pure, unadulterated marine Hydrolysed Collagen Peptides on our ingredient list. No bulking agents or fillers. Nothing that may be questionable for your health or the Earth's. Just beauty- and wellness-boosting goodness through and through.
Worried that it'll be … well, fishy? You can put that fear to rest. Our marine collagen peptides are odourless and tasteless — plus, they're so dissolvable you could add them to just about anything.
They're the tastiest, easiest way for you to work toward a youthful, healthy body.
Sustainably sourced from wild-caught fish scales from Australia's pristine coastal waters
We source our marine collagen peptides from wild-caught fish scales (which used to be discarded as waste!) from Australia's coastal waters.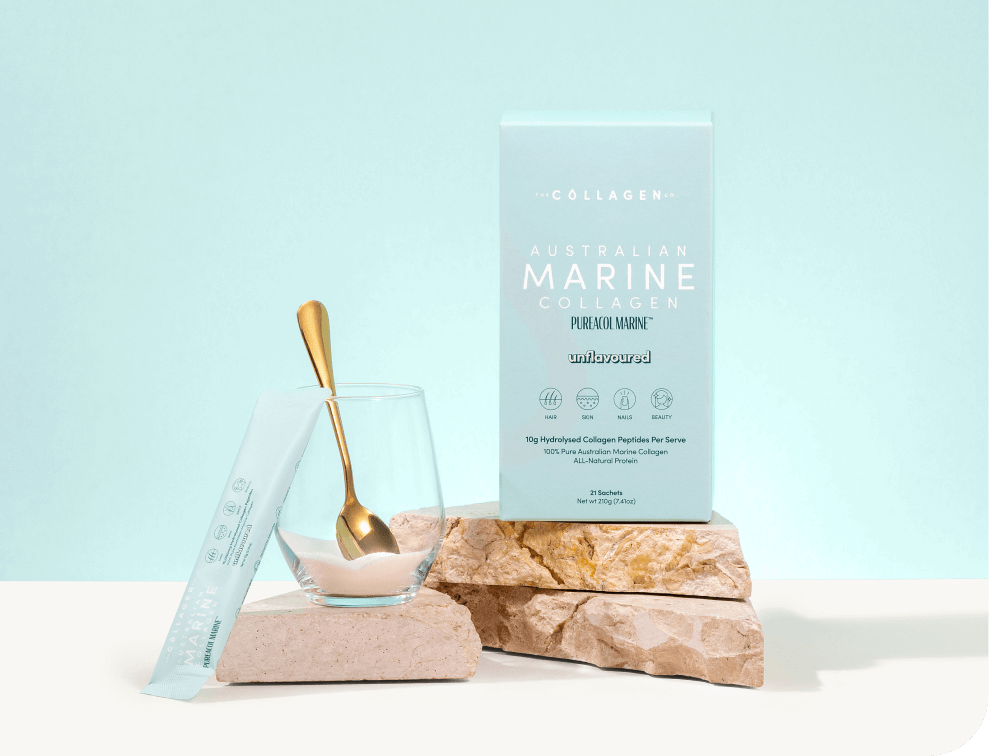 Effective dosage, maximum bioavailability
5 grams per serving? Only? Less is not more when it comes to collagen peptides supplementation. To truly experience collagen's beauty- and wellness-enhancing benefits (and fast), you'll want 10 grams per serving — precisely what our marine collagen peptides products provide.
Beyond dosage, the efficacy of your marine collagen peptides also depends on their molecular size. If they're too large, your body won't digest them. And there go their beneficial bioactive signalling properties!
That's why we hydrolyse our marine collagen peptides until they're super tiny: under 2kDa in molecular weight. This allows them to sneak past your digestive tract as intact, bioactive signalling peptides that'll work their magic wherever your body needs them.
FAQs
Collagen makes up about one-third of the protein in our body. It's what keeps our skin supple, hair shiny, nails strong and joints moving freely. In fact, up to 75% of our skin is made up of collagen – it's a major component of the integrity of the outer extracellular matrix (aka what gives you smooth, healthy and glowing skin).

Collagen can also be found in bones, teeth, tendons, blood vessels, cartilage and even in our digestive tract. It's a pretty amazing protein and essential to keeping us strong and healthy.

Our Marine Collagen Peptides are sourced sustainably from the pristine waters of Australia. 

We pride ourselves on only working with suppliers who adhere to the sustainable and ethical production of collagen peptides and who also ensure the raw materials used are of the highest quality.

Individual results may vary depending on lifestyle however visible results are expected in 28 days on average when consuming 15 grams of collagen or more per day.

Hydrolyzed Collagen Peptides are "normal" collagen proteins that have been broken down into shorter chains of amino acids, making them more easily absorbed by the body.