Experience the glow

like never before

Just when you thought things couldn't get any better… we gave our grass-fed, pasture-raised bovine Hydrolysed Collagen Peptides a glow-up by pairing them with skin-brightening Vitamin C, hydrating Hyaluronic Acid, and youth-giving Biotin.
15 grams of Hydrolysed Collagen Peptides per serving
Formulated with natural collagen-supporting ingredients
Available in 4 equally tasty flavours
Take a closer look at our Premium Collagen
Peptides (we have nothing to hide!)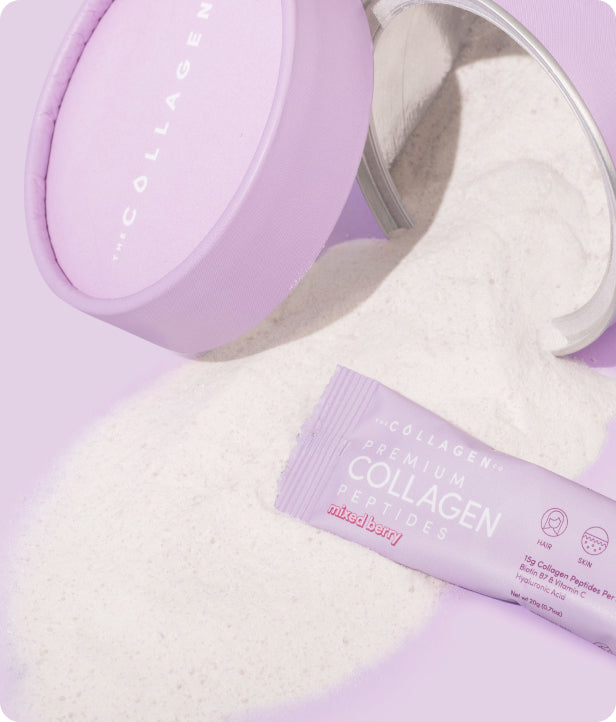 Unlike others, we don't skimp on collagen peptides. Every serving of our Premium Collagen Peptides packs 15 grams of Hydrolysed Collagen Peptides for a difference you can see and feel.
By the way: generous dosing isn't the only thing that makes our Premium Collagen Peptides unique and effective.
We also make sure to hydrolyse our peptides until they're at a molecular weight size clinically proven to work in the body: 2kDa (so super-duper tiny they enter your bloodstream as intact, bioactive collagen peptides) (X).
Oh, and also, because they're bovine, they can help stimulate all three types of collagen in your body: Type 1, Type 2, and Type 3.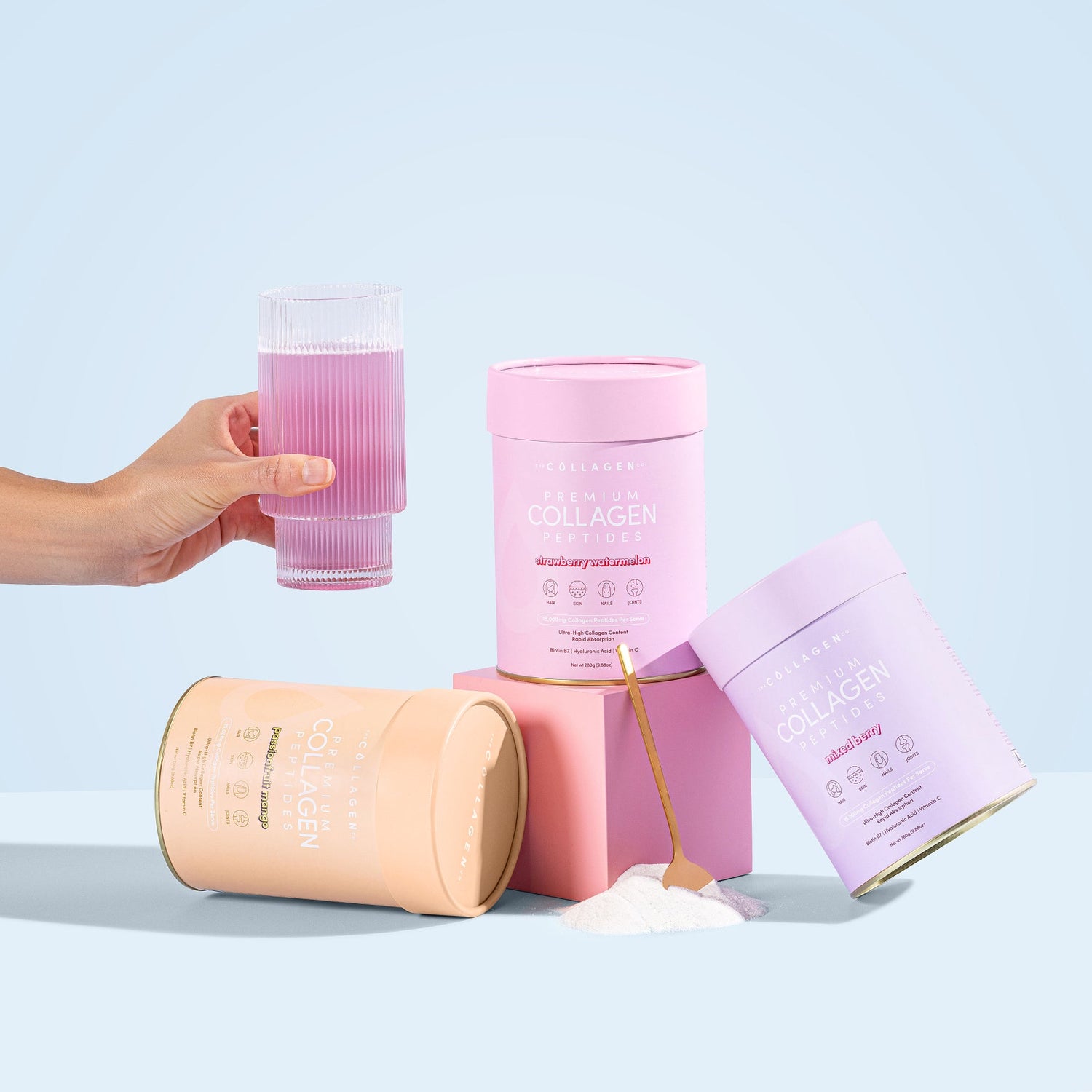 Alone, collagen peptides are powerful. But that doesn't mean they wouldn't appreciate some help — especially if it comes from these synergistic ingredients:
1. Vitamin C: Promotes collagen biosynthesis and protects against damaging oxidative stress
2. Hyaluronic Acid: A "water magnet" that pulls in moisture for deep hydration from the inside-out 
3. Biotin: Supports the body's production of keratin and collagen, the foundations of healthy skin, hair, and nails
Strawberry Watermelon. Mixed Berry. Passionfruit Mango. Unflavoured. No matter how you prefer to take your collagen peptides, you're bound to find one that pleases you here (more on our flavours below).
Four equally delicious, collagen-boosting flavours

Berry Nice!
"The mixed berry is so delicious. My skin, hair & nails are looking and feeling healthier, overall I'm feeling so much better. Very happy with the quality of the collagen."
Unbelievable Results
"I've been drinking this collagen powder for 3 months and it really does work. I'm almost 50 years old and I have never been able to grow my hair this long and healthy before."
Mango Delight!
"I love the Passionfruit Mango collagen, so yum. My skin, hair and nails are looking stronger and healthier. Feeling great."
Read all 1888 reviews
FAQs
Collagen makes up about one-third of the protein in our body. It's what keeps our skin supple, hair shiny, nails strong and joints moving freely. In fact, up to 75% of our skin is made up of collagen – it's a major component of the integrity of the outer extracellular matrix (aka what gives you smooth, healthy and glowing skin).

Collagen can also be found in bones, teeth, tendons, blood vessels, cartilage and even in our digestive tract. It's a pretty amazing protein and essential to keeping us strong and healthy.

Hydrolyzed Collagen Peptides are "normal" collagen proteins that have been broken down into shorter chains of amino acids, making them more easily absorbed by the body.

Yes, our collagen is perfectly safe for both pregnant and nursing mothers. If you do have any specific individual concerns we suggest seeking the advice of your local general practitioner.

No, they do not. The Collagen Co. only uses natural colours, flavours and sweeteners.