Celebrating Sandra's Inspiring Weight Loss Journey and A Day on Her Plate
Posted October 2023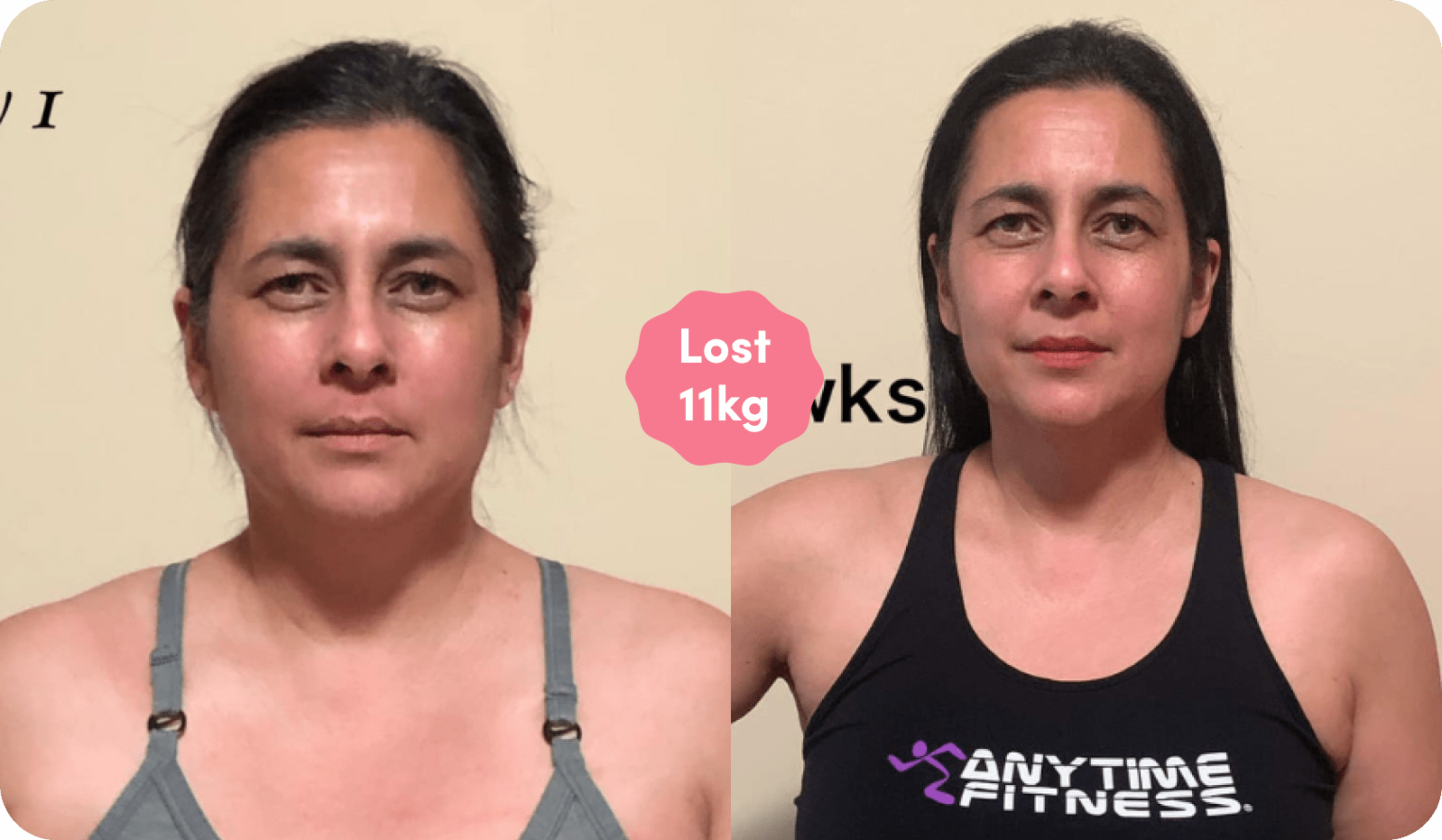 Today, we are truly excited to celebrate one of our inspiring Glow Talk members, Sandra, and share her remarkable story of transformation and resilience.
With over 4,000 vibrant members in our private Facebook group, Glow Talk, we have cultivated a space where women come together to share their stories, their victories, and the secrets of how they #shaketheweightenhanceyourglow.
Sandra's fitness journey
Sandra's journey is nothing short of incredible. She achieved a remarkable weight loss of 11 kgs in just 3.5 months, and the best part is that she didn't have to sacrifice delicious food and snacks along the way.
Sandra's journey has been an inspiration to all of us. In her 30s, she was an avid runner, but a knee injury left her struggling with everyday tasks. In her 40s, she adapted by switching to light weightlifting, but pain forced her to abandon cardio activities. However, in her 50s, she realised that this was not the life she wanted. With the guidance of a physiotherapist and armed with knowledge and tools, Sandra embarked on a journey of recovery.
As we age, losing weight can become more challenging, but Sandra's determination found a powerful ally in The Collagen Co. The Glow Shakes became a cornerstone of her transformation, providing her with satisfying breakfasts and lunches. Sandra was determined to incorporate snacks, ensuring she included more fruits and vegetables in her daily diet.
Sandra's Typical Day on a Plate
4.30am -5.30am: Gym, drink 1 litre water throughout workout.
6am - Glow Shake
8am - At work, sipping water throughout the day (about 1 litre)
10am - Snack, Carrot sticks and Hommus
12.30pm - Glow Shake
3.30pm - Snack, either yoghurt or apple with a T2 cup of tea
6.30pm - Dinner, pork or steak with steamed veggies or a salad.
8pm - Dessert, low-calorie choc mint bar or caramel choc nut roll.
It is never too late to prioritise your health and well-being
The results of her journey have been truly remarkable. Sandra also noticed that her hair became thicker, and her facial skin became smoother and more radiant. Her body underwent a stunning transformation as her shoulders became defined, and her midsection sculpted.
We are incredibly proud of what Sandra has accomplished and the enduring dedication she embodies. Her story is a testament to the idea that it is never too late to prioritise your health and well-being. Sandra's journey was made possible with the support of our wonderful community, which has offered guidance, inspiration, and unwavering encouragement.
Keep shining brightly on your own personal journeys, and remember, you're never alone on this path to a healthier and more radiant you.