Choc-Strawberry Yoghurt Clusters
Posted September 2023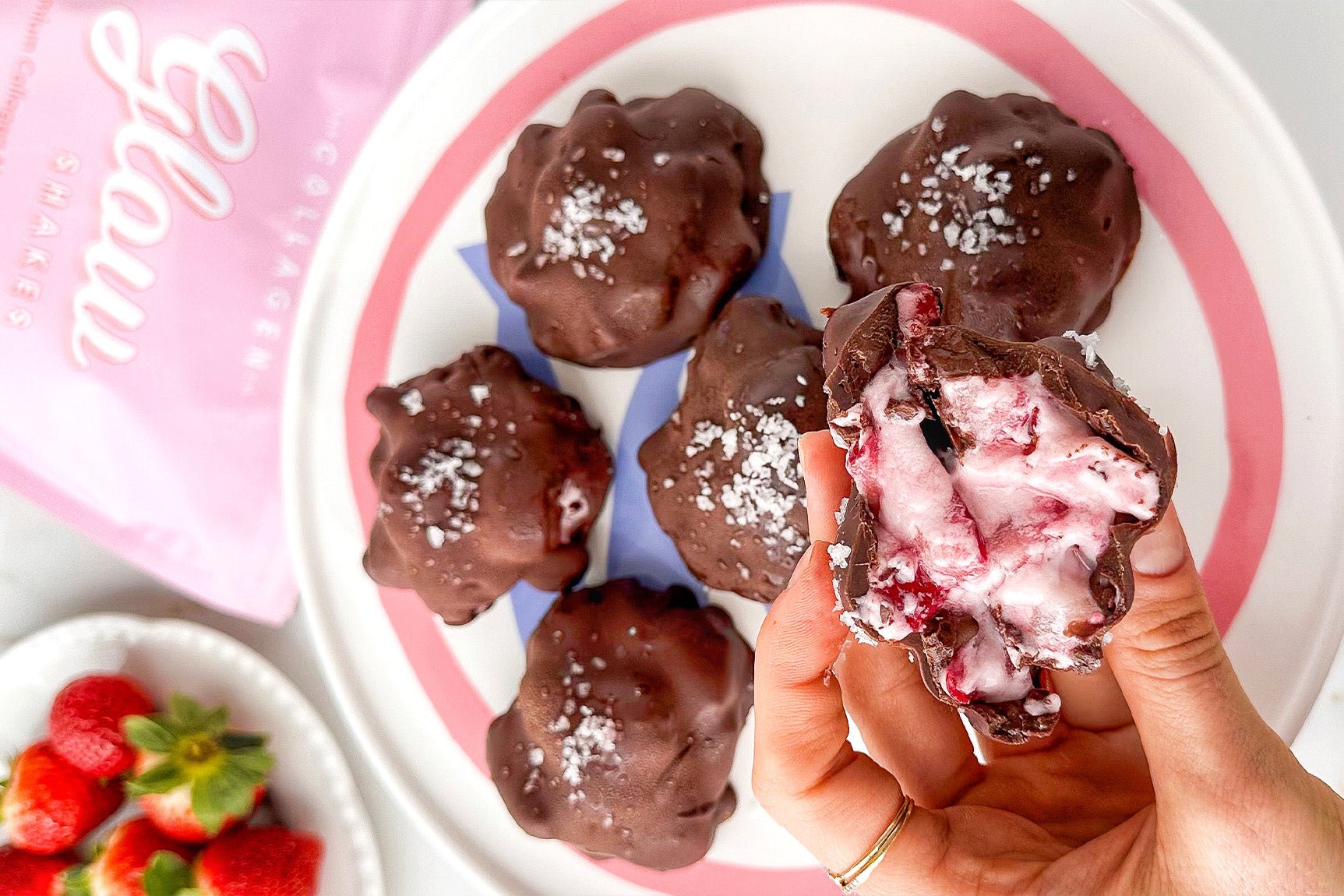 Get ready to elevate your snacking game with this viral sensation – our 5-ingredient, no-bake Strawberry Glow Clusters! These bite-sized delights are not just a treat for your taste buds but also a feast for your eyes, thanks to the vibrant strawberries. With no added sugar and just a handful of simple ingredients, this recipe is a game-changer. Imagine the sweet-tart flavour of fresh strawberries meeting the creamy goodness of Greek or coconut yogurt, all infused with the magic of strawberry milkshake Glow Shakes. But that's not all – we're taking things up a notch with a generous coating of dark chocolate chips and a hint of coconut oil. The result? A snack that's as Instagram-worthy as it is delicious. Plus, they're incredibly easy to make!
ONLY 5 Ingredients | NO-Bake | NO Added Sugar | Viral Recipe
Makes 8
Ingredients:
500g fresh strawberries, chopped
1 cup plain greek or coconut yoghurt
1 scoop Strawberry Milkshake Glow Shakes
1 1/2 cups dark chocolate chips
2 tsp coconut oil
Method:
Line a baking sheet or tray with baking paper.

In a medium bowl, combine chopped strawberries, yoghurt and strawberry glow shakes powder.

Using a spoon or a small cookie scoop, spoon the mixture onto the prepared baking tray, spacing them out evenly.

Place the tray in the freezer for about 1 hour to allow the yogurt clusters to firm up.

With 10 minutes left, melt chocolate chips and coconut oil in a microwave-safe bowl in 30 second increments, until smooth and fully melted

Remove the clusters from the freezer. Using a fork, dip each cluster into the melted chocolate and place back on the baking sheet. Working quickly, repeat until all clusters are coated in chocolate.

Return the tray to the freezer for another 15-20 minutes then enjoy!