Halloween Collagen Jelly Slice
Posted October 2023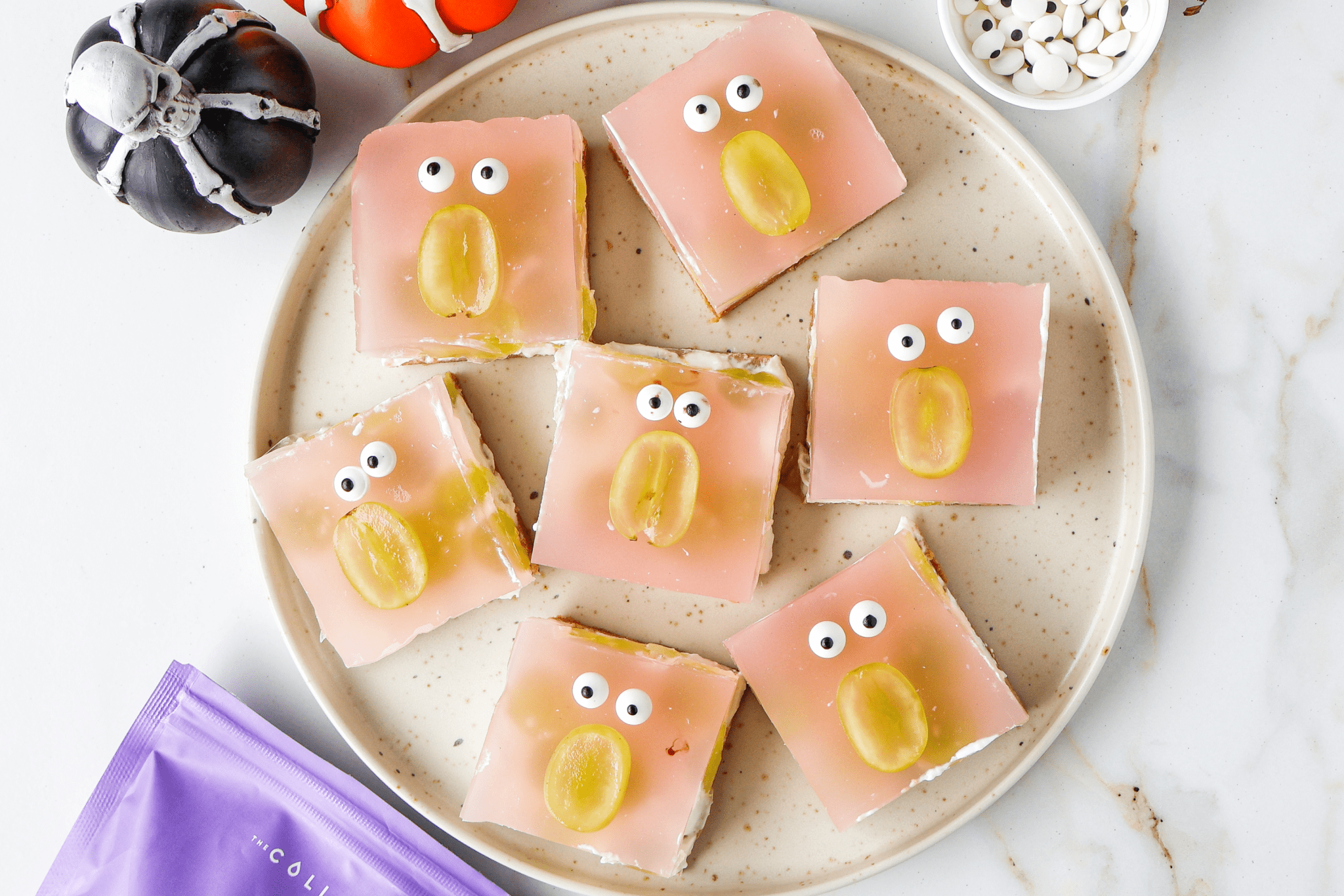 Get into the Halloween spirit with our collagen-infused Jelly Slice, a delightfully spooky treat that's as nutritious as it is fun! The base, crafted from crushed Weetbix biscuits and milk, provides a fibre-rich foundation. Topped with a layer of creamy yogurt and a sprinkle of sliced grapes, it offers a burst of vitamins and antioxidants. Treat yourself and your loved ones to this spooktacular collagen Jelly Slice!
Gluten Free | NO Bake | No Added Sugar
Ingredients
1/4 cup Purple Grape Collagen
2 tbsp gelatin
1 cup boiling water
1 cup ice cold water
5 gluten free Weetbix
1/2 cup milk of choice
200g protein vanilla yoghurt
1/2 cup sliced grapes
Candy eyeballs + sliced grapes, to garnish
Method
Grease and line a square baking tin with baking paper.

In a medium bowl whisk Purple Grape Collagen and gelatin with boiling water until dissolved. Whisk in the cold water and set aside.

Crush the Weetbix biscuits in a container or bowl. Add your choice of milk, mix well, and press the mixture into the tin to create a thin base layer.

Spread an even layer of yogurt on top of the base and add the sliced grapes.

Pour the liquid jelly over the top, then carefully place the tin in the fridge overnight to allow it to set.

Afterward, cut it into squares and garnish with edible eyeballs. Enjoy!