How Do Meal Replacement Shakes Work for Weight Loss?
Posted November 2023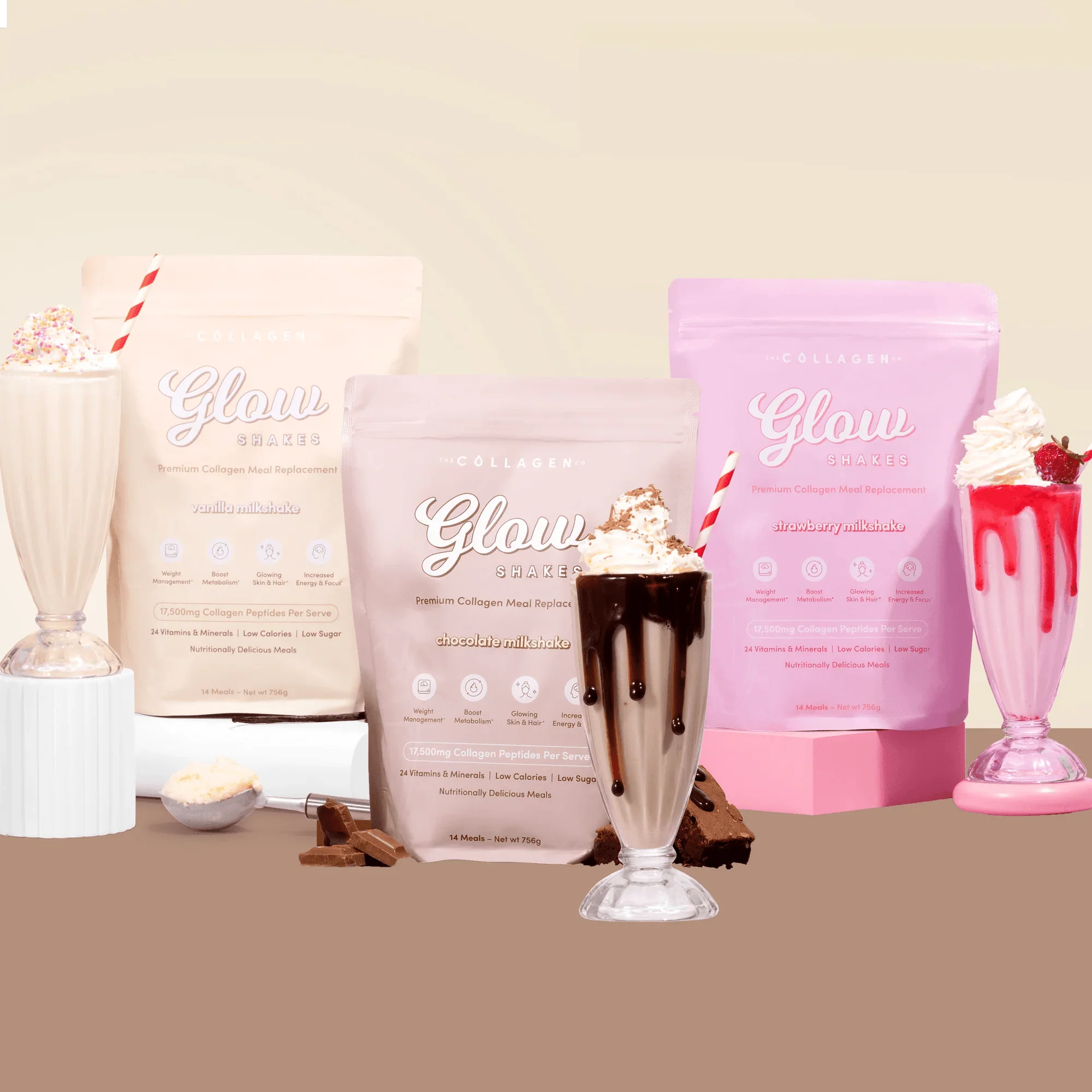 Tired of the same old weight loss routines? Ready to shake things up, quite literally? 
Join us as we dive into the world of meal replacement shakes and uncover how these delicious treats go hand in hand with kickstarting and maintaining your weight loss journey. 
Here we'll answer some of the most commonly asked questions about our range of shakes and discover how they're about to become your new gym partner. 
How much weight can I lose with meal replacement shakes? 
Wondering how much weight you can lose with our shakes? It varies based on factors like starting weight, activity, and plan duration. On average, 0.5-1kg per week is safe, which translates to up to 52 kg in a single year. 
What meal replacement shakes are the best for losing weight? 
Our meal replacement shakes are tasty and multifunctional, perfect for aiding weight, beauty, and wellness. Each serving contains hunger-curbing protein (including Hydrolysed Collagen Peptides), prebiotic fibre, MCT oil for fat burning, green tea extract for energy, and 24 essential vitamins and minerals. 
The best part? Choose from our three delightful flavours: chocolate, strawberry, or vanilla shakes. When you think about the best meal replacement shakes for weight loss, think of us – your taste buds and weight loss goals will thank you. 
How to use meal replacement shakes for weight loss 
To effectively use these shakes for weight loss, replace one or two meals daily with our balanced Glow Shakes. Ensure they are part of a calorie-controlled diet, stay hydrated, and maintain a nutritious whole-food diet for lasting results. 
How do meal replacement shakes work? 
Our Glow Shakes offer a convenient, portion-controlled alternative to regular meals. They're nutritionally balanced and curb calorie intake by enhancing satiety. This helps to support weight loss and streamline nutritional management all whilst shedding the kilos. It's a win-win. 
What meal replacement shakes are best for diabetics? 
When choosing meal replacement shakes for diabetes, it's important to consider options that are designed to help manage blood sugar levels. Look for shakes with a balanced nutritional profile, lower sugar content, and a good source of protein and fibre – just like our range. 
How many meal replacement shakes a day to lose weight? 
Typically, shakes are used to replace one or two meals in a day, often breakfast and/or lunch. Although, you may want to replace breakfast and dinner. For your own convenience, you can choose which two meals you want to replace. 
If you're starting with one shake a day, try swapping either your breakfast or lunch. This allows you to control your calorie intake and have two meals to look forward to. 
Choosing to replace both breakfast and lunch with meal replacement shakes should be followed by a healthy dinner. This can create a calorie deficit for significant weight loss and still allow you to enjoy your food. 
Shake it up with our delicious range of weight loss shakes 
Ready to shake up your weight loss journey in the most delightful way? Our range of delicious Glow Shakes is here to make your transformation a tastier, easier, and more exciting experience. 
With flavours that make your taste buds dance and a nutritional profile that will support your short and long-term goals, it's time to savour the journey while shedding those extra pounds. Shop now or contact us for more info.