Raspberry Ripe Protein Balls
Posted August 2022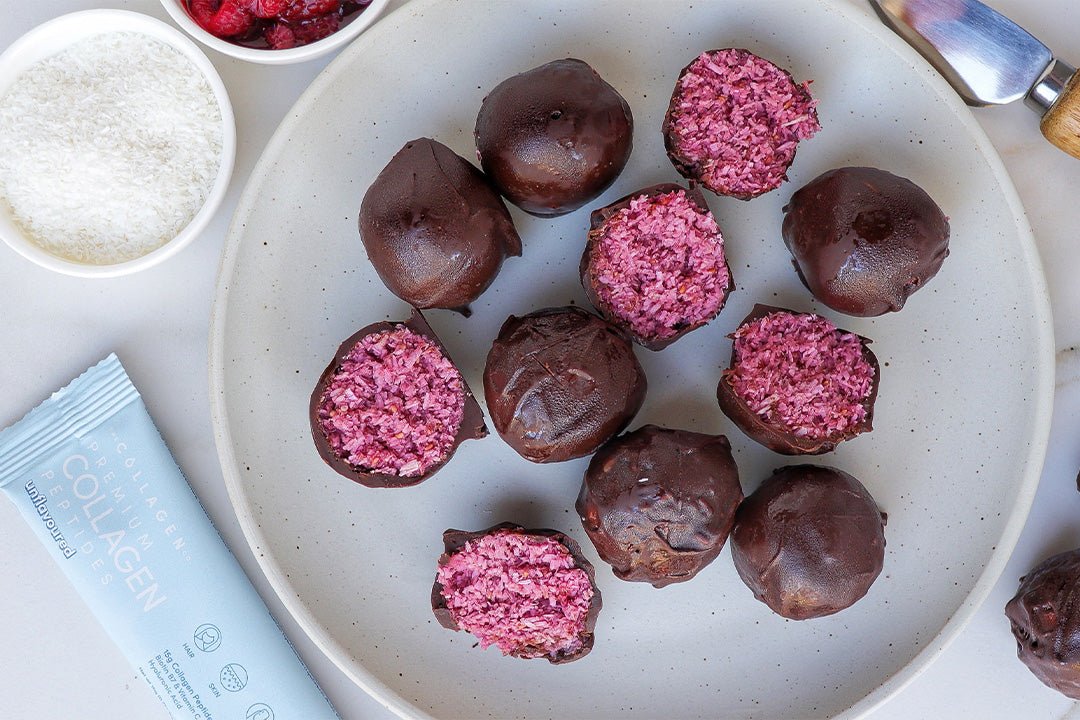 Think classic Cherry Ripe but better! These sweet but fresh protein balls are full of flavour without all the sugar, and even better they have ingredients to make you glow. Bite into a rich dark chocolate shell to get a burst of fresh, tart raspberries mixed with sweet, creamy coconut and take your tastebuds to heaven. These are going to be your new staple snack, not just for how great they taste, but because they're just so easy to make with only 6 ingredients. One of those being The Collagen Co. Premium Collagen Peptides, that include skin loving ingredients: High quality Hydrolysed Collagen, Hyaluronic Acid, Vitamin C and Biotin.
Gluten free | Paleo | 6 ingredients 
Ingredients:
1 cup frozen raspberries
3 tbsp sugar free maple syrup
1 tsp vanilla extract
1 1/2 cups desiccated coconut
6 scoops unflavoured collagen 
1 cup (150g) dark chocolate chips 
Method:
1. Add frozen raspberries to a bowl and microwave for 30-60 sec to soften.
2. Add in maple syrup, vanilla, coconut, collagen, and mix to combine.
3. Roll the mixture into 16 balls and place on a tray lined with baking paper. 
4. Place the balls into the freezer for an hour to firm up.
5. Melt the chocolate in 30 sec increments until runny. Add 2 tsp coconut oil for a runnier consistency if needed*.
6. Dip the balls into the melted chocolate and cover completely.
7. Refrigerate for 20 mins and enjoy!